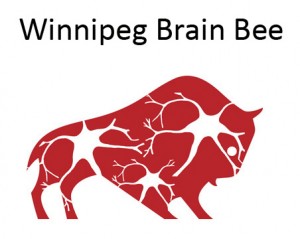 Welcome to the homepage of the Winnipeg Brain Bee! Scroll down to find out how you can take part in next year's competition!
Winnipeg Brain Bee 2018! – Registration deadline extended to December 8th, 2017!

The Manitoba Neuroscience Network is pleased to announce that the 4th annual Winnipeg Brain Bee will be held March 10, 2018 at the University of Manitoba's Bannatyne campus.  Registration will be open until December 8th, 2017.  For more information and to obtain registration forms, please contact Dr. Sari Hannila (see email address below).  We hope that your school will join us for a fun and exciting day dedicated to learning about the brain!
Winnipeg Brain Bee 2017
The 3rd annual Winnipeg Brain Bee was held March 11, 2017 at the University of Manitoba's Bannatyne Campus. Following the competition, the students enjoyed lunch and a series of demonstrations featuring neuroanatomy, neurophysiology, stroke rehabilitation, and microscopy led by neuroscientists and graduate students from the University of Manitoba.  Students also had the opportunity to visit the Neurocraft exhibition that was on display for Brain Awareness Week.
This year, the winner of the Winnipeg Brain Bee was from Brandon!  Congratulations to Sophie Kim of Vincent Massey High School!  Sophie represented Winnipeg at the Canadian National Brain Bee, held May 27, 2017 at McMaster University. Our second place finisher was Sandeep Mangat from The University of Winnipeg Collegiate, and our third place finisher was Karsyn Beatty, also from Vincent Massey High School in Brandon.  Congratulations to them and to all of our participants!
Previous Winnipeg Brain Bee winners
2015:  Rachel Gador, River East Collegiate
2016:  Tiara Headworth, River East Collegiate
About the Brain Bee
The Brain Bee is a competition for students in Grades 9-12 that tests neuroscience knowledge. It is an excellent opportunity for students to learn about neuroscience and may be of particular interest to students who are interested in pursuing careers in neuroscience research, medicine, and psychology.
The Winnipeg Brain Bee is organized by the Manitoba Neuroscience Network, the Winnipeg chapter of the Society for Neuroscience, a non-profit organization representing neuroscientists. The mission of the MNN is to promote neuroscience research and education in Manitoba, and enhance public awareness of neuroscience through events such as the Brain Bee.  You can learn more about the MNN by visiting our new website:  https://manitobaneuroscience.ca/
To keep up with the latest news from the MNN, follow us on social media!
Twitter:  @manitobaneuro
Instagram:  @manitobaneuroscience
How to take part
The competition is open to all students in Grades 9-12. Participation is completely free! There is no registration fee and all study materials are provided to students free of charge. All we require is that you register by the deadline.
Previous winners cannot compete again, but otherwise, students are welcome to participate every year!
How to prepare
The questions for the Brain Bee are taken directly from a text called "Neuroscience: Science of the Brain", which is available online at:
http://brain.mcmaster.ca/BrainBee/Neuroscience.Science.of.the.Brain.pdf
These study materials can be downloaded anytime!
The format of the questions is flexible, and can include multiple choice, short answer questions, and patient diagnosis questions.
While it is possible for students to study on their own, we strongly recommend that students contact their science teacher and form groups to prepare for the Bee. Students should start to prepare soon after finalizing their registration.
What you win!
The winner of the Winnipeg Brain Bee receives a plaque, an iPad, and a trophy to display at their school until the next competition. They will also receive an all-expenses paid trip to Hamilton, ON to represent Winnipeg at the CIHR Canadian National Brain Bee!  Our second and third place finishers also receive plaques, as well as cash prizes.
The winner of the National Brain Bee receives the opportunity to represent Canada at the International Brain Bee, which has been held annually since 1999. The 2017 International Brain Bee was held August 3-6 in Washington, DC, and the 2018 competition will be held in Berlin, Germany!
For more information about the International Brain Bee, visit:  http://www.dental.umaryland.edu/brainbee/
For more information and to obtain registration forms, please contact Dr. Sari S. Hannila, Department of Human Anatomy and Cell Science, University of Manitoba
Sari.Hannila@umanitoba.ca or winnipeg@brainbee.ca