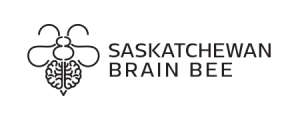 How can I register?        The online registration is now open!
Who can participate?     High school students, grades 9-12. Previous Brain Bee winners                                                                   cannot participate again.
When is the event?         Sunday, March 19, 2017.
Where is the event?        Saskatoon City Hospital (701 Queen Street)
How can I prepare?         You can prepare by reading materials from the book                                                                                      (Neuroscience: Science of the Brain) that is freely                                                                                         downloadable from the internet.
What do I win?                 1st place – $500 + free trip to the Canadian Brain Bee + trophy                                                                   2nd and 3rd places – CASH prizes!
Questions?                       Contact your local Brain Bee coordinator: Katherina Lebedeva,                                                                    e-mail: saskatchewan@brainbee.ca.
We look forward to seeing you at the 3rd Annual Saskatchewan Brain Bee 2017!