Ninth Annual Competition
Congratulations Nooran AbuMazen, who has won 2nd place for Canada at the International Brain Bee in Copenhagen this week!   Visit our Facebook page for photos, and like and post congratulations to Nooran there!
On Saturday, May 28th 2016, high school students from across Canada came to McMaster University to compete for the CIHR Canadian National Brain Bee championship. They engaged in challenging events, testing their knowledge of neuroscience and their skills at patient diagnosis and neuroanatomy.
The national competitors were the top students in their region – champions who have already won their local brain bee competitions. Local competitions for 2016 were held coast to coast.  The regional champions were Liam King from Victoria Brain Bee, Celine Pei-Ling Tsai from Vancouver, Rebekah Hall from Edmonton, Avanti Karkhanis from Calgary, Daniel Zhou from Saskatoon Brain Bee, Tiara Headworth from Winnipeg, Berk Umid Rasheed from London, Nooran AbuMazen from Waterloo, Steph Swanson from Guelph, Adam Sunavsky from Hamilton, Deween Piyasena from Toronto, Carolina Cadena from Kingston, Ling Yang from Ottawa, Valeria Hernandez from Montreal, and Olivia Barrett from Newfoundland Brain Bee. These students are well on their way to becoming the next generation of neuroscientists!
The 2016 champions:
First place:  Nooran AbuMazen from Waterloo Brain Bee
Second place:  Steph Swanson from Guelph Brain Bee
Third place:  Ling Yang from Ottawa Brain Bee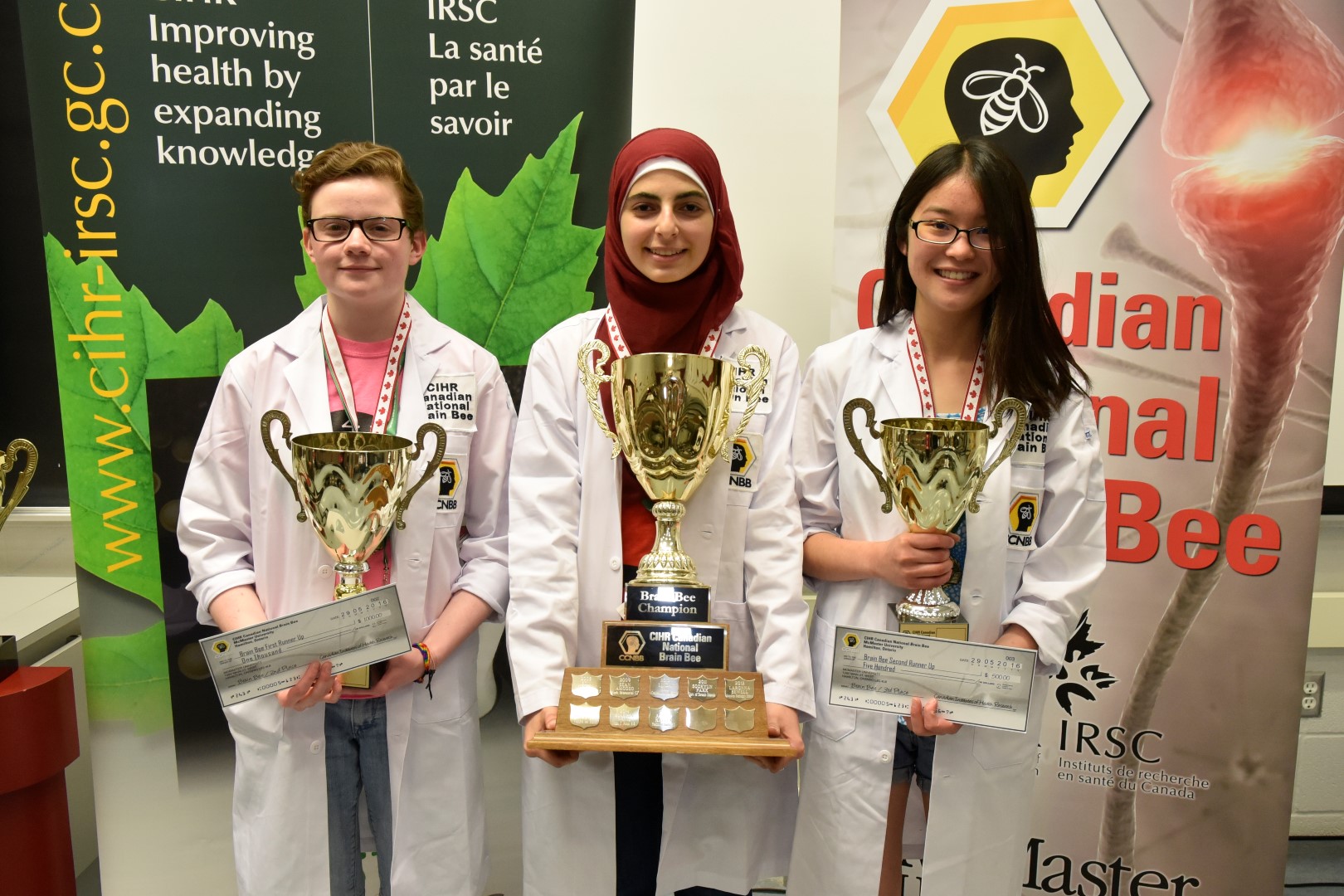 Our 1st, 2nd, and 3rd place national winners received trophies and cash prizes ($1500 for 1st place, $1000 for 2nd place, and $500 for 3rd place). Our 2016 champion, Nooran AbuMazen, will be honoured on a beautiful trophy which will be put on display at McMaster, and will be given the opportunity to work in a neuroscience laboratory.
The challenge is not over for Nooran, who will travel to Copenhagen, Denmark, to represent Canada at the International Brain Bee World Championship (IBBWC) on June 30 – July 4, 2016, held in conjunction with the  Convention of the Federation of European Neuroscience Societies. Go to http://www.thebrainbee.org/ for more information about the 2016 IBB.
Congratulations to everyone who competed in their local competitions!  If you are a student interested in the brain bee competition in your local area, look for contact information under Local Brain Bees, organized by city name.
Podcast interview with Nooran AbuMazen: http://cihr-irsc.gc.ca/e/49828.html
Like our page on Facebook:  https://www.facebook.com/CanadianNationalBrainBee.  
Check out our highlights from previous years under the History and Photos menu at the top of this page.