Djavad Mowafaghian Centre for Brain Health, UBC Neuroscience Graduate Student Association, Life Science Institute Neuroscience Research Group, BC Chapter of SfN, NeuroDevNet and Canadian Institutes of Health Research with UBC Let's Talk Science present:

"What seems astonishing is that a mere three-pound object, made of the same atoms that constitute everything else under the sun, is capable of directing virtually everything that humans have done: flying to the moon and hitting seventy home runs, writing Hamlet and building the Taj Mahal – even unlocking the secrets of the brain itself." – Joel Havemann, from A Life Shaken
Do you think about how you think, feel and learn? Do the mysterious and complex behavioural responses of humans and animals fascinate you? Ever wonder how the organ that can contemplate its very existence works? Then this is the place for you! A chance to pit your cognitive skills against those of your peers, strengthen those synapses and come out on top!!! 
Date: Saturday April 28th, 2018
Location: Djavad Mowafaghian Centre for Brain Health, University of British Columbia
Interested? Sign up soon!
Here are some great links to help you learn more about the brain:
Neuroscience: Science of the Brain (this is where most of the exam material comes from)
Neuroanatomy video tutorials with UBC's own Dr. Claudia Krebs
Neuroscience: Exploring the Brain (Bear, Connors & Paradiso, 3rd Edition): (this is material for the 2018 National Brain Bee)
Chapter 2 (5 Mb)
Chapter 7 (6.4 Mb)
Chapter 7 Appendix (5.2 Mb)
Chapter 15 (4.7 Mb)
Chapter 22 (6 Mb)
---
Congratulations to our 2017 Vancouver Brain Bee Participants and Winners!!!
Congratulations to everyone on another amazing Vancouver Brain Bee! As always, we were impressed by your neuroscience knowledge! We hope you had fun in the exam, lunch time panel discussions, human neuroanatomy demo, and solving patient files. Thanks to our judges, Dr. Cheryl Wellington, Dr. Tim O'Connor, and Dr. Kurt Haas, on overseeing a fierce competition by our top 5 competitors: Sangeetha Kasturi, Sahar Sajjadi, Ryan Hong, Josie Setiawan, and Yilin Chen!
---
Congratulations to our 2016 Vancouver Brain Bee Participants and Winners!!!
2016 Event Highlights
We had a great turn out, with 35 students competing in the exam! It was a very fun day including lunch with panels of UBC undergraduate, graduate, and medical school students, a neuroanatomy demo form Dr. Claudia Krebs, and tours through the research labs of Dr. Naznin Virji-Babul and Dr. Brian MacVicar.
Thanks to everyone who came out and participated – we had a great time. Send us your feedback any time, and we hope to see you next year!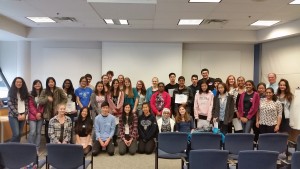 Our amazing contestants: Great job and great smiles, everyone!
                Our top five contestants: Congratulations on a spectacular performance!
                                Thanks to our wonderful judges and announcer!
More photos will be up soon on our facebook page. "Like" us to keep up-to-date on the latest news, or contact us at vancouverbrainbee@gmail.com.