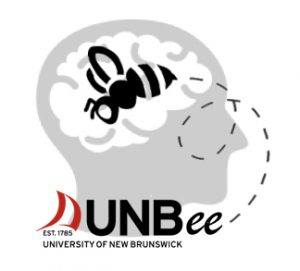 Do you know that your brain is composed of billions of cells? How does your brain let you see, hear, and think? What happens to your brain when you're sleeping? By participating in the Brain Bee, these are just a few of the things that you can learn about your brain and how it works!
REGISTRATION NOW OPEN!
Register here, for the 2018 New Brunswick Brain Bee on April 13, 2018. If you register by April 6th you will be guaranteed a spot in this year's Brain Bee, while all registration forms received after this date will only be considered if space permits.
What is the Brain Bee?
The Brain Bee is a yearly competition that tests students' knowledge of brain-related (neuroscience) facts. As part of the Brain Bee, your neuroscience knowledge will be quizzed in a variety of fun and interesting ways.
Who may participate?
The University of New Brunswick (UNB) Regional Brain Bee is open to high school students (grades 9-12) living in New Brunswick and surrounding areas. Participation in this event is free. Students may only compete in one Regional Brain Bee each year, and it must be the Brain Bee that is closest to them geographically, so if your province does not currently host a Brain Bee, we would love to have you. Students can participate in the regional UNB Brain Bee more than once, providing they have not previously come in first place. However, winners can only compete in one national, and one international Brain Bee.
Important Dates:
The Regional Brain Bee will be held in the Department of Psychology at UNB in Fredericton on Friday, April 13th, 2018 from 9am to 4pm. The first place winner of this Brain Bee will move on to the National Competition at McMaster University in Hamilton, Ontario on Saturday, May 26, 2018. The winner of the National Competition will travel to Berlin, Germany to represent Canada at the International Brain Bee (IBB) and will be held in conjunction with the 11th Forum of the Federation of European Neuroscience Societies (FENS).
Prizes:
The first place prize includes a trophy, a MUSE headband, and a round-trip flight to, and accommodations in, Hamilton, Ontario. The second place prize is an AfterShokz Trekz Titanium headset, and the third place contestant will receive a certificate to take home.
All participants will receive some extra goodies! In addition to participating in the Brain Bee, participants will also have the opportunity to hear from neuroscience experts and participate in an entertaining day of neuroscience- and psychology-related activities.
Preparing for the Bee and Study Materials:
The study materials for the competition consist of the "Neuroscience: Science of the Brain" primer on the brain and nervous system. It can be downloaded for free from the following link:
Neuroscience: Science of the Brain.
There are other resources that you might find useful and inspiring!
For example: Brain Facts and the Brain Facts Book
If you have any questions, send them to newbrunswick@brainbee.ca